RYA Day Skipper Practical Course: £890
Minimum age 16 (under 18's to be accompanied by responsible adult).
We run our RYA Day Skipper courses from the sunny island of Corfu in Greece.
This is a 5-day practical course involving navigation, pilotage, tidal work, yacht handling under power including anchoring and mooring and sail, basic maintenance, crew management, sea rules, weather forecasting, passage planning, handling emergencies and night cruising.
This course is only suitable if you have good navigation knowledge. If you are lacking this knowledge you'll need to Choose our Day Skipper Plus package which includes the online RYA essential navigation course, this is crucial to be able to pass your Day Skipper practical with us. The theory should be completed prior to your arrival for the practical course.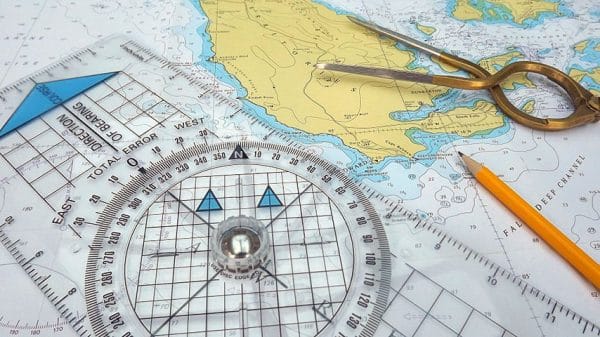 Sail Combined package: £1,692
This package brings together a 5 day Competent Crew practical course on board Blue Planet, 2 days break, then the full 5 day Day Skipper practical course, and includes the online RYA essential Navigation course. This is the quickest route to gaining the valuable Day Skipper qualification! You will stay on board the training yacht for entire duration.
Participants who lack good navigational knowledge, should complete an Rya Day Skipper online course prior to arrival, we will supply details on booking.
At a glance
Teaches the skills required to manage and sail a yacht
Course duration 5 days / 6 nights
The minimum qualification needed to charter a yacht
Minimum age: 16 under 18's must be accompanied by an adult
Requires some sailing experience and good navigational knowledge inc Tidal work
Includes Breakfast and light Lunch
Introduction
Being a skipper is about much more than navigating. The skipper is responsible for the well-being and safety of the vessel and crew, which includes weather forecasting, victualling, engine and general maintenance, sail handling, passage planning and watch keeping. So this is a fairly intense course, but it's also fun and rewarding. It will give you not just the qualifications but also the confidence to skipper a small cruising yacht by day opening up a whole new world at sea. We've successfully trained many students to Day Skipper level ........see what some former students say
Course content
This is a 5-day course in navigation, pilotage, tidal work,yacht handling under power and sail, basic maintenance, crew management, sea rules, weather forecasting, passage planning, handling emergencies and night cruising.
Assumed pre-course experience
It is assumed that you are already proficient in the topics covered in the Competent Crew course syllabus including a good understanding of navigational and tidal calculations. Also sailing, rope work, seamanship and have experienced at least 100 miles on a cruising yacht as an active crew member. It is not possible to successfully complete this course as a complete beginner. The Competent Crew course teaches you how to sail - The Day Skipper course teaches you how to plan and execute passages safely and manage a sailing yacht. There is not time during a Day Skipper course to also teach all the essentials of sailing and seamanship.
Why learn to sail in the Ionian?
The Ionian Sea is ideal for learning to sail, with gentle morning breezes to hone your skills. This is usually followed by a keen afternoon wind of 3-5 bf (10-21 knots), giving us an exhilarating sail to our final overnight anchorage.
Recommended book reading before your arrival
Rya Day Skipper Shorebased notes) available from Amazon and RYA.