After your arrival you'll be met by Captain Rick at the Blue Bar in Gouvia Marina at 5pm,  you'll be taken to 'Blue Planet' where you can familiarise yourself with the yacht, enjoy a glass of Bubbly, and discuss provisioning options.
Scroll to the bottom of the page for an interactive map
Day 1
We will typically leave harbour around midday, and head three hours south to 'Paradise Bay', where  you'll enjoy swimming in the crystal clear waters of Notos Bay.  We follow this with dinner at the delightful family run restaurant, 'Notos', which has incredible panoramic views of the mountainous Greek mainland.  Often we spend the night on the end of the jetty here, so your bedroom is a short stroll away.
Day 2
After a leisurely breakfast on board and yet more swimming, we head off to our next destination, and the stunning azure waters of Lakka on the island of Paxos.  Often we anchor for the night on the town quay or in the bay. For dinner we have two options you can either join your Skipper for some fabulous traditional Greek cuisine at 'Pounentes' in Lakka village, or you can go for the more expensive option of Eremitis with its spectacular unbroken views of the sunset from its mountain top location.  The food here is of a top international standard, the setting and decor is truly splendid, making this a truly unforgettable experience.
Day 3
Today is the Captains BBQ, cooked on board Blue Planet using the finest ingredients Lakka has to offer.  We set sail often taking us around the picturesque west coast of Paxos, with its giant caves and massive cliffs, before heading across to the Greek mainland and the beautiful Two Rock Bay.  This is the perfect place for swimming, and enjoying a cocktail at the clifftop bar with its funky bohemian decor and laid back music. After working up an appetite swimming in clear waters, you'll want to enjoy a home cooked meal prepared by Captain Rick.
Day 4
After another night at anchor, we will set sail North up the west coast of the Greek mainland to the peaceful fishing harbour of Plateria, where you can enjoy the wonderful long beach situated at the end of the impressive bay, before once again heading out for dinner, this time at another family run fish Taverna 'Budos" run by Christos and his delightful family.  We often enjoy a mezze meal here sampling a variety of dishes from roast peppers through to fresh seafood and almost everything in between.
Day 5
We head for the Old Fort in Corfu Town were we we spend the night in Mandraki Yacht club with its inclusive showers wifi and electricity and situated in the middle of this ancient Venetian fort its a location not to be missed . Around 6.30pm we head up to Corfu Town and the magnificent Hotel Cavalieri with its roof top terrace for a pre dinner cocktail, whilst enjoying the incredible views toward the Greek and Albanian mainlands. After this we make our way through the elegant back streets 'La Cucina' a truly awesome restaurant run by the lovely George and his ever attentive staff.
Day 5 (Alternative)
An alternative destination for day five, is the legendary Toulas taverna (allegedly a favourite of Prince Harry)! Situated in the stunning bay of Agni, we would normally moor on their jetty for the night, so your bedroom is very close by (weather dependent).
Day 6
We set sail up the North east coast of Corfu and visit various bays for more swimming and sightseeing, before finally heading back to Gouvia Marina and the end of your trip. Many clients love to then go for dinner at the legendary 'Chicken Georges', where dinner is enjoyed in his outside garden, my personal favourite dish costs €3.50!
We also offer a two week sailing holiday which includes an additional discount, see our skippered holiday page for more details..
If you take the two week option with us we also visit the Southern Ionian Islands of Lefkada, Ithaca and Kefalonia
(subject to weather conditions)
Click the days on the map for more information
Day 1
Day 1
Notos Bay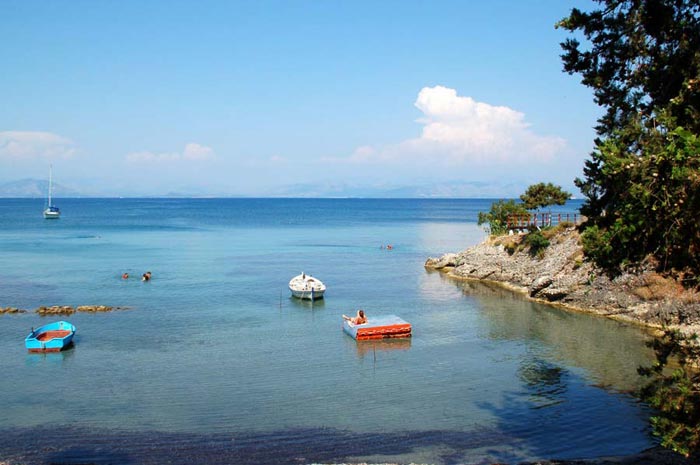 Day 2
Day 2
Lakka
Day 3
Day 3
Two Rock Bay
Day 4
Day 4
Plateria
Day 5
Day 5
Mandraki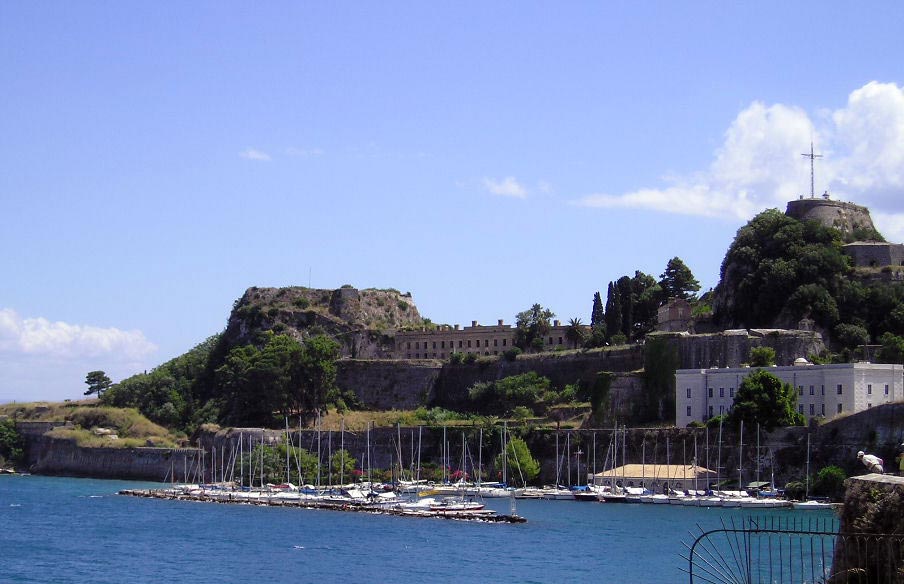 Start Finish
Day 6
Gouvia Marina