On a Sail Blue Planet sailing holiday, a typical day starts with a leisurely breakfast – either on board the yacht or in one of the harbour's picturesque cafés. As you tuck into something delicious, you'll decide with your skipper Captain Rick where you'd like to anchor for the evening.
The final plan is agreed with one eye on the weather, as your comfort and safety is always our prime concern. But it's your holiday, so in general you dictate the pace, Rick is there to help and advise.
Then it's anchors aweigh, for a relaxing 2-3 hour sail to a lunchtime anchorage where we'll have a bite to eat and a swim. Later we'll sail on to our chosen overnight location, often arriving around 6pm – just in time for pre-dinner cocktails or maybe a last swim in the evening sun.
After you've showered, it's all aboard our tender for the short hop ashore and dinner at one of our carefully chosen tavernas. Here you'll enjoy some of the finest cuisine that Greece has to offer.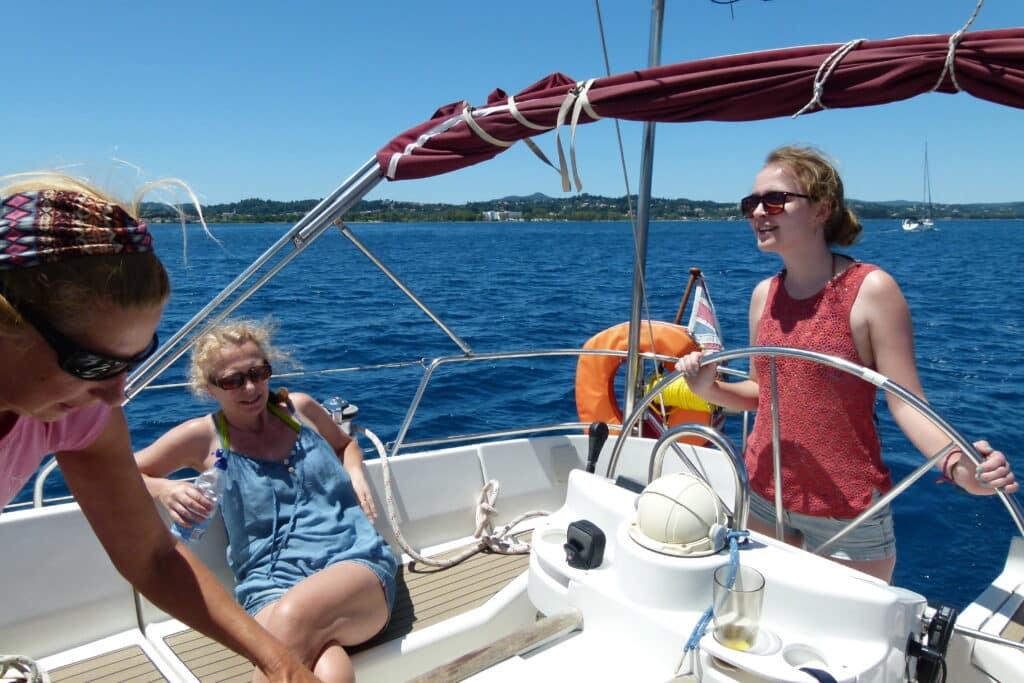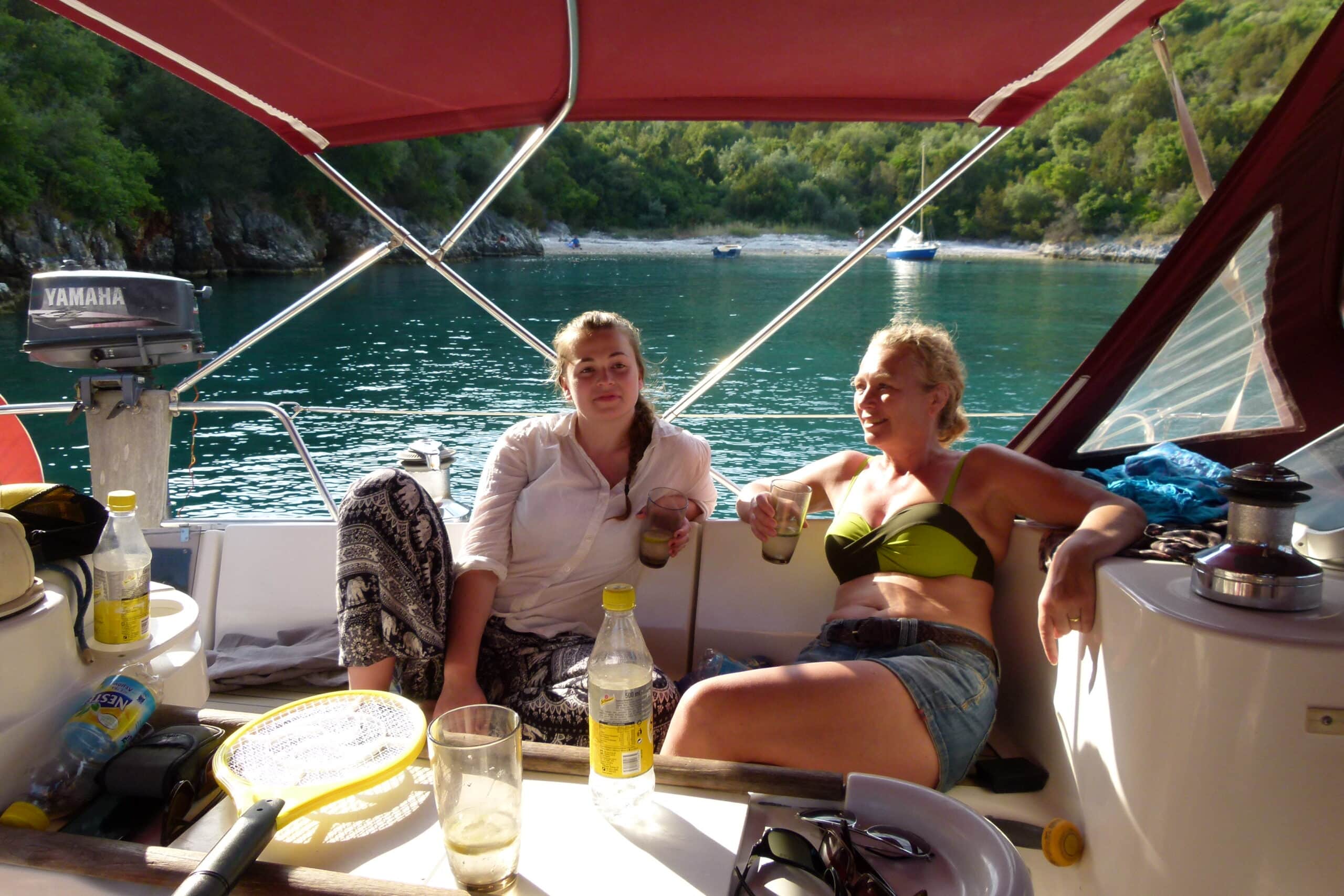 Ideas for your last night at sea
Suggestion 1.
For your last night at sea we offer you the option of a night on board Blue Planet right in the centre of Corfu Old Town. Many of our guests love this option as it's an opportunity to have a good look round this picturesque town, and explore the Old Fort. We often enjoy a delicious meal at the outstanding La Cucina, preceded by cocktails at Hotel Cavalieri's legendary rooftop bar.
There is a modest charge for this, as we need to pay the Corfu Yacht Club for a safe berth, but the fee includes entrance to the famous Old Fort, and of course negates the need for a cab fare whilst visiting town. The mooring charge goes to a good cause because it helps teach young Greek students how to sail.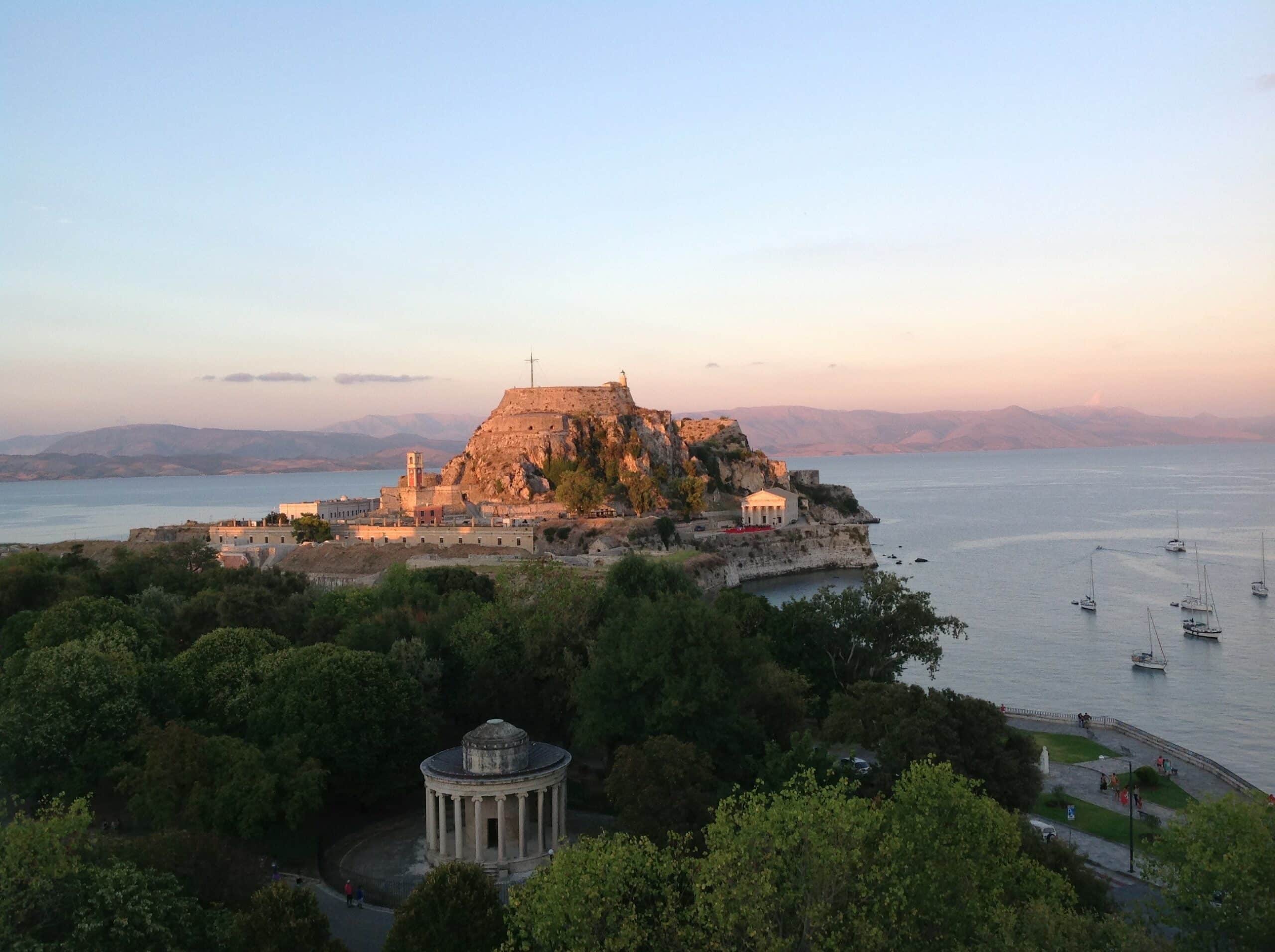 Suggestion 2
Alternatively, we give you the chance to enjoy a romantic meal in one of two tavernas in the beautiful bay of Agni.
We often moor the boat right on the end of their quay, so at the end of the evening (having enjoyed incredible international cuisine), you'll simply wander down the quay to your'e waiting cabin, (this option is weather dependant).
Or you can choose something else altogether – it's completely up to you! Rick is there to help and guide you if you need it.
Blue Planet moored for the night at Toula's Taverna jetty in Agni Bay