RYA Competent Crew Course: £890
We run our RYA Competent Crew courses from the sunny island of Corfu in Greece.
You don't need any experience for this course, just enthusiasm! However our price does include an online Competent Crew primer course, which gives you a great heads up on what you can expect on arrival.
During the practical course you'll gain all the skills you need to become a valued and useful crew member on any sailing vessel, from personal safety to seamanship and helmsmanship. You'll also experience some longer voyages and some night sailing. We've successfully trained many students to Competent Crew level  .......see what former students say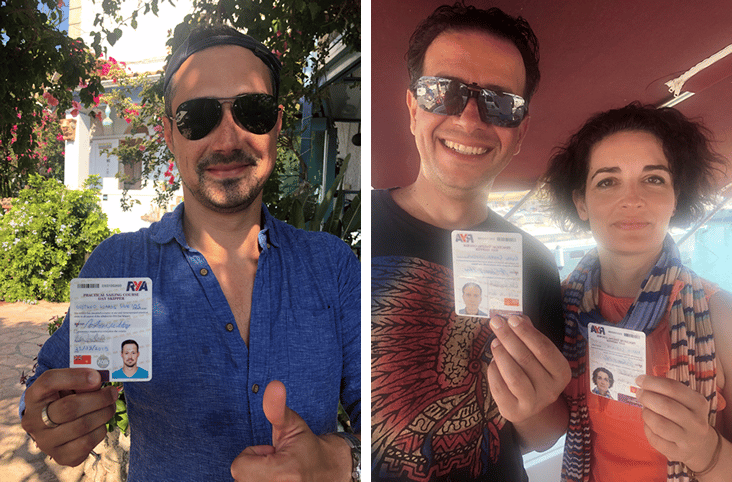 • Teaches the fundamentals of being a crew member
• Course duration 5 days / 6 nights
• Minimum age None.
• Ideal for those with little or no sailing experience
• Includes Breakfast and light Lunch
Course content
Minimum age 12 (under 18's to be accompanied by responsible adult).
This is a 5-day course introducing beginners to sailing on a cruising yacht, covering steering, handling the sails and ropes, acting as a lookout, mooring up, use of the anchor, basic navigation and day-to-day duties on board.
Assumed pre-course experience
No previous knowledge or experience is necessary.
Why learn to sail in the Ionian?
The Ionian Sea is ideal for learning to sail, with gentle morning breezes to hone your skills. This is usually followed by a keen afternoon wind of 3-5 bf (10-21 knots), giving us an exhilarating sail to our final overnight anchorage.
Recommended book reading before your arrival:
Rya Competent crew skills (CCPCN) available from Amazon and RYA